NAVIGATION
Tyre and TomTom, Garmin
GOOGLE MAPS
Tyre and Google Maps
GOOGLE  EARTH
Tyre and Google Earth
OTHER
Other Related Problems
Although Tyre speaks for itself, you could have some further questions about our piece of software. Through our help center we want to help you find your way around and help you with any problems. You can 
go to the help pages by clicking here
 or you can view the frequently asked questions below.
(This image is the panic gnome, created by Paddy Hansen. We are grateful that it may be used on our website.)
Here some Frequently Asked Questions (FAQs) are collected.
Please read this page before sending an email with your question.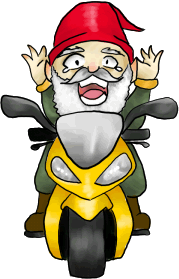 Lots of questions are about the Google Maps API Key.
Here are some important elements:
More information about creating your API Key? Click here!
Do you want to know more about pricing when using a Google Key? Read all about it here!
On creating or editing your API Key, use only Google Chrome as a browser. Really annoying, but unavoidable, because otherwise lots of unexpected errors may occur.
Make sure that you have enabled all relevant API Keys: not only API Maps, but also Routes and Places. Do you want to know which APIs should be activated in any case? Or what would be smart? Click here!
Do you want to check the validity of your Google API Key? 
Click here!
Do you want to see or change your Google API Key settings? 
Click here!
This is the currently Most Asked Question:
Why are my waypoints connected with straight lines instead of lines following the roads? The answer can be found 
by clicking here
. Do you see something like this:
Or like this:
The most likely reason for this is the settings of your Google Key. You may have to 'activate' your 'passive' Key after a trial period of one year. Go here to find out how to do that: 
How to activate your Google Key
. There are many APIs that can be activated. Do you want to know which of these should be activated in any case? Or what would be smart? Click on the image below to enlarge it.
Google will advise you to restrict the use of your APIs. This is unnecessary for use with Tyre, because you only use the Key for yourself. Moreover, it can cause problems, as has often been shown. So don't put any restrictions!
Click here to use our troubleshooter: the easy way to consult the FAQs!
The Frequently Asked Questions are sorted in five sections:
I cannot find a solution for my problem. What can I do?
If you cannot find a solution for your problem (error message etc.), you can try this:
Install a clean version of Tyre:
We have created a tool that can do the cleaning job for you. 
Click here to download the tool.
If you want to do it yourself, follow these steps: – Remove Tyre from your computer. – Remove the following key (and all of its sub keys) from the registry: HKEY_CURRENT_USER\Software\Tyre If there are still Tyre files on your disk, remove them too: – Remove the folder C:\Program Files\Tyre (or C:\Program Files (x86)\Tyre) and all of its contents. – Remove the Tyre Application Data folder and all of its contents.
You can find the Application Data folder here: 'C:\Users\<User Name>\AppData\Roaming\Tyre'.
Done this? Then restart your computer, download and install Tyre again.
Still problems you cannot solve?
Contact me!